Frequently Asked Questions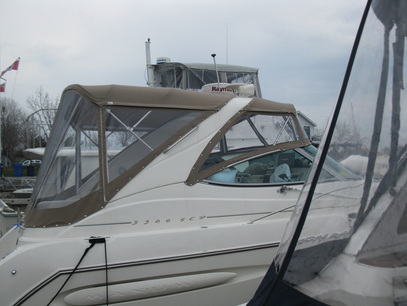 Do you just copy the old top?
In most cases we need to make a new pattern because things have changed over time and this ensures that your new canvas will fit correctly on your boat

Can we use the old side panels when you make a new top?
Generally everything needs to be replaced at the same time so it makes sense to take care of everything at once to make sure that all pieces fit, work properly and look good.

How long should my marine canvas last?
A lot of factors effect this but usually boat canvas last anywhere from 6-12 years depending on where they are stored, how much UV exposure and how they fit, and how they are taken care of.

How long do vinyl windows last?
Marine vinyl windows should last many years however it does depend on the environment and also how they are cared for. Clear vinyl windows do dry out, discolor, and become brittle however a cleaner and polish such as Klear to Sea will protect from atmospheric pollutants, reduce scratching, and extend its useful life of your boat windows. Strataglass has special cleaning and care instructions to ensure a long life.

How long before tops need to be restitched?
Depending on the storage conditions it is usually every 3 to 5 years your top should be brought in for stitching however you should examine your boat top regularly and attend to repairs right away before the damage gets worse.

Is Sunbrella waterproof?
Sunbrella products are water repellant, not waterproof. Sunbrella has a waterproof finish applied at the factory that repels water. It needs to be reapplied every few years.

How should I store my marine canvas?
Canvas should never been stored wet or in a bag but rather in a dry well ventilated area to inhibit the growth of mold. Large panels and vinyl windows should be stored flat.

---